Old Fashioned Soda Fountain
Drinks and Ice Cream Treats served 10a.m. to 6p.m., Monday through Friday and 8a.m. to noon on Saturdays. Food served 10:30a.m.-1:30p.m. Monday through Friday.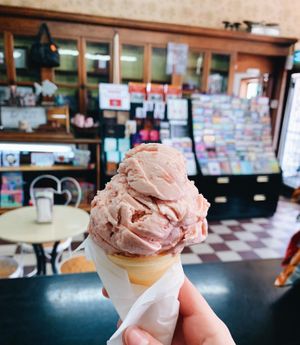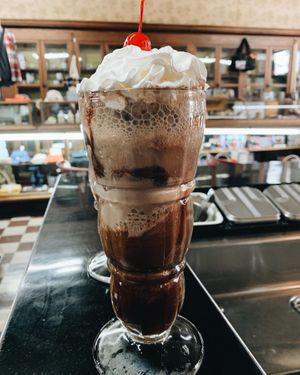 Explore our variety of beverages and ice cream specialities today at the Old Fashioned Soda Fountain at Thomas Drugs.
HOBO Float (water/toothpick) - Free
Fresh Brewed Coffee - $1.89
Unsweet and Sweet Tea - $1.89
Fresh Lemonade & Salty Lemonade - $1.99
Egg Cream - $1.99
The Egg Cream consists of chocolate syrup, milk, carbonated water.
Sodas - $1.89
Coke, Diet - Coke, Sprite, Rootbeer, Dr.Pepper
(Free refills for dine-in guests. Excludes Lemonade)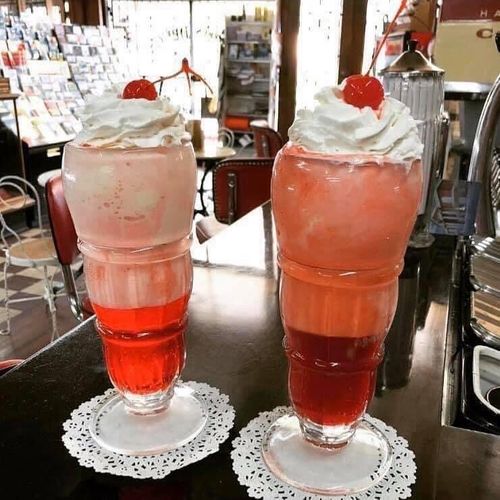 Specialty Shakes - $4.99
Banana - Peach - O'Chariey's Caramel Cream Pie- Peanut Butter- Hot Fudge- Coffee- Malts
Old Fashioned Milk Shakes - $4.69
Chocolate - Vanilla - Strawberry - Butter Pecan- Cookies N Cream - Chocolate Chip Cookie Dough- Cherry - Caramel
Brownie A La Mode - $5.39
Fudge brownie topped with vanilla ice cream, hot fudge, walnuts, whipped cream, and a cherry.
Purity Ice Cream Flavors
Vanilla - Chocolate - Strawberry- Butter Pecan- O'Chariey's Caramel Cream Pie - Cookies-n-Cream - Chocolate Chip Cookie Dough - Peach Yogurt
Ice Cream Sundae $4.99
Choice of topping: hot fudge, pineapple, strawberry, caramel
Floats -$4.79
Coke Float - Root Beer Float