Lunch served 10am to 2pm, Monday thru Friday
Drinks and Ice Cream Treats served 8am to 6pm, Monday thru Friday and 8am to noon on Saturdays
Explore our variety of beverages, ice creams, salads, sandwiches, and burgers today at the Grill & Soda Fountain at Thomas Drugs.
HOBO Float (water/toothpick) - Free
Fresh Brewed Coffee - $1.59
Unsweet and Sweet Tea - $1.59
Fresh Lemonade & Salty Lemonade - $1.99
Egg Cream - $1.99
The Egg Cream consists of chocolate syrup, milk, carbonated water.
Sodas - $1.39
Coke, Diet - Coke, Sprite, Rootbeer, Dr.Pepper
(Free refills for dine-in guests. Excludes Lemonade)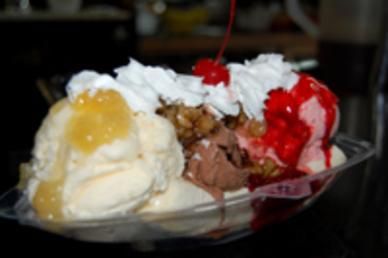 Specialty Shakes - $3.99
Banana - Peach - O'Chariey's Caramel Cream Pie- Peanut Butter- Hot Fudge- Coffee- Malts
Old Fashioned Milk Shakes - $3.69
Chocolate - Vanilla - Strawberry - Butter Pecan- Cookies N Cream - Chocolate Chip Cookie Dough- Cherry - Caramel
Brownie A La Mode - $4.39
Fudge brownie topped with vanilla ice cream, hot fudge, walnuts, whipped cream, and a cherry.
Purity Ice Cream Flavors
Vanilla - Chocolate - Strawberry- Butter Pecan- O'Chariey's Caramel Cream Pie - Cookies-n-Cream - Chocolate Chip Cookie Dough - Peach Yogurt - Birthday Cake
Ice Cream Sundae $3.99
Choice of topping: hot fudge, pineapple, strawberry, caramel
Salads
Craisins, banana peppers available upon request
Dressings: Ranch, Honey Mustard, Italian
Dab Salad - $6.99
Chicken salad, tuna salad, egg salad, & pimento cheese on a bed of romaine lettuce with chopped tomatoes, and a dill pickle spear
Chef Salad - $6.99
Ham, turkey, boiled egg, cheese, and bacon bits on a bed of romaine lettuce with chopped tomatoes, and a dill pickle spear
Grilled Chicken Salad - $6.99
Grilled chicken breast on a bed of romaine lettuce with chopped tomatoes, cheese, boiled egg, and a dill pickle spear
Sandwiches
All sandwiches served grilled with chips and a dill pickle spear
Bacon, Lettuce and Tomato - $5.59
Grilled Cheese and Bacon - $5.59
Peanut Butter and Jelly - $3.99
100% Angus Beef Hot Dogs - $3.69
Burgers
We ONLY use Real Swiss and Cheddar Cheeses
100% Angus Beef Hamburger - $5.69
100% Angus Beef Cheeseburger - $5.99
Grilled Chicken on Pita with Swiss Cheese - $5.99